Amateur Mushroom Cook-Off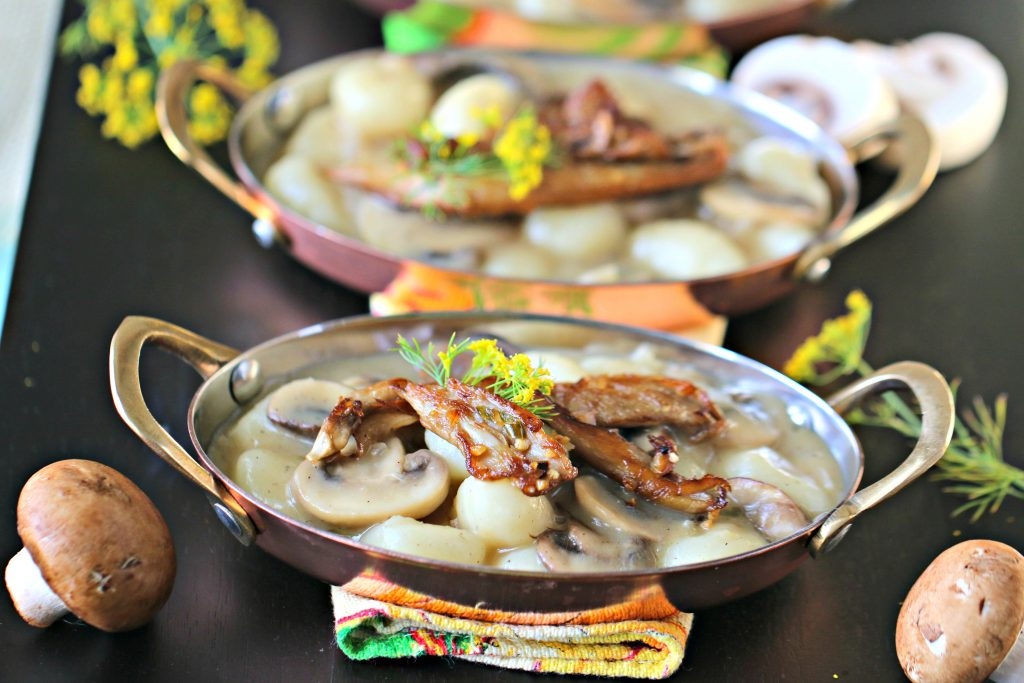 Rebecka Evans of Pearland, TX (last years 1st place champion) won the Cook-Off with her Prosecco Mushroom butter Gnocchi with garlic chili recipe.
The 2021 theme is: Cooking with Muhrooms – 5 ingredients or less in 30 minutes
Saturday, September 11, 10:30 a.m. Kennett Square, PA
PRIZES
1st Prize - $500 & Plaque
2nd Prize - $250
3rd Prize - $150
Runner-ups Prize - $50
ELIGIBILITY: Open to all amateur cooks, eighteen (18) years of age or older, who are residents of the United States, except members of The Mushroom Festival Committee and their immediate families, agencies and consultants of The Mushroom Festival and their immediate families.
DEADLINE: All entries must be e-mailed by July 30, 2021. Receipt of entries will not be acknowledged.
RECIPE ENTRIES:
Must be an original recipe.
May contain any variety or combination of varieties of fresh mushrooms cultivated in the United States.
Mushrooms must be the dominant ingredient (at least 50%). Meat, poultry, seafood and vegetables may be used, but cannot dominate or overshadow the main ingredient—mushrooms.
Must contain no more than 5 ingredients (water, salt and pepper are freebies).
Ingredients must be readily available.
Must take no longer than 30 minutes to prepare, cook and plate.
The dish may be served hot or cold but the only heating elements available to each contestant is a double burner (no oven or broiler will be available).
Space and electric are limited this year so please keep that in mind.

JUDGING:

Recipes will be judged on Execution, Taste, Appearance and Creativity with Mushrooms.
All entries will be screened and taste-tested by an expert panel, to select the cook-off finalists.
Cook-off finalists will be notified by August 23, 2021. Non-finalists will not be notified.
In the event that a selected finalist is unable to enter the cook-off, another finalist will be selected in his/her place. You may not have someone else prepare your recipe.
NEW LOCATION THIS YEAR! The cook-off will be held at The Mushroom Festival on Saturday, September 11th at 10:30 am in the Genesis parking lot located at 600 S. Broad Street, Kennett Square, PA, at the Community stage. Here finalists will prepare their mushroom dish from start to finish.
The Mushroom Festival will supply 2 single burner heating units and a worktable for each contestant.
The Mushroom Festival will supply each finalist with the following types of fresh mushrooms needed for their recipe: white button, cremini, portabella, oyster, shiitake, maiitake and royal trumpet.
The contestants must bring all ingredients for at least 4 servings, preparation and cooking utensils as well as the dish for presenting the finished dish to the judges.
Ingredients may NOT be prepped ahead of time and brought to the cook-off.
Final judging will be conducted by a panel of town officials, culinary professionals and Mushroom Festival Committee members. Panel of judges will not know the names of the finalists until the judging is completed.
The winners will be announced immediately following the judging.

HOW TO ENTER:

Fill out the online entry form. (below)
Only one (1) recipe may be submitted per person, so send in your best!
List each ingredient in order of use with the amount needed and clear directions for preparing the dish.
Write your name, address, email address and phone number at the top of the recipe you enter.
Return the application and recipe by email. Email application and entries to: mushroomcookoff@gmail.com (place Amateur Mushroom Contest in the subject A typed name in the signature box indicates you understand and accept the rules of the contest.


ALL applications MUST be received by July 30, 2021 to be considered for a finalist position – NO EXCEPTIONS!
REGULATIONS

The Mushroom Festival is not responsible for late, lost, or illegible entries.
Liability for applicable federal, state or other taxes will be the sole responsibility of the individual winners.
Contestants are responsible for all travel expenses to and from the Mushroom Festival contest.
Only one prize will be given to an entrant.
This contest is void where prohibited by law and is subject to all federal, state and local laws and regulations.
Entries become the property of The Mushroom Festival, Inc. and cannot be returned.
By entering the contest, all participants consent to the commercial use of their name, picture and recipe without additional compensation.
Contestants agree to be bound to these official rules and the decisions of the judges.